Xihoumen Bridge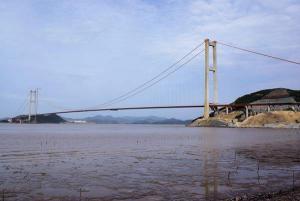 | | |
| --- | --- |
| Panjang | 2.588,00 m |
| Jumlah Bentang | 1 |
| Bentang Terpanjang | 1.650,00 m |
| Pilar Tertinggi | 211,29 m |
| Kondisi Umum | Aktif |
| Jenis Jembatan | Gantung |
| Tanggal Mulai | 2005 |
| Tanggal Selesai | 2009 |
| Tanggal Peresmian | 2009 |
| Biaya | Rp. 4.287.756.000.000,00 |
| Negara | China |
| Pulau | Zhoushan |
| Latitude (GPS) | 30.0614730000000000 |
| Longitude (GPS) | 121.9224470000000000 |
Xihoumen Bridge
The Xihoumen Bridge (simplified Chinese: 西堠门大桥; traditional Chinese: 西堠門大橋) is a suspension bridge built on the Zhoushan Archipelago, the largest offshore island group in China. The main span was completed in December 2007. [1] The entire bridge, along with Jintang Bridge, was opened to traffic on a test basis on 25 December 2009. [2] It is the second-longest suspension bridge ranked by the length of the centre span. The opening date was put off because of a ship collision on 16 November 2009 that slightly damaged the side of Jintang Bridge.
The 5.3-kilometre-long suspension bridge connection has a 2.6-kilometre-long main bridge with a central span of 1,650 metres. The approaches total 2.7 kilometres. When it opened, there was only one bridge with a larger span, the Akashi-Kaikyo Bridge in Japan. However, there are several other bridges planned or under construction that will also be larger.
The bridge was built by the province of Zhejiang, at a cost of 2.48 billion yuan (approximately US$363 million). Construction began in 2005, and the first traffic crossed the bridge on 25 December 2009, at 11:58 p.m., local time.
The Xihoumen Bridge links Jintang and Cezi islands. Another bridge, the 27-kilometer-long cable-stayed Jintang Bridge, links Jintang Island and Zhenhai of Ningbo. The two bridges are the second phase of a huge project started in 1999 to link the Zhoushan Archipelago to the mainland with five bridges. Construction of the other three bridges has been completed.
Sumber : http://en.wikipedia.org/wiki/Xihoumen_Bridge

---
---