Jembatan Zakim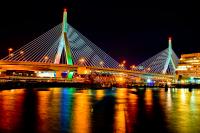 | | |
| --- | --- |
| Panjang | 436,00 m |
| Lebar | 56,00 m |
| Bentang Terpanjang | 227,00 m |
| Pilar Tertinggi | 82,00 m |
| Kondisi Umum | Aktif |
| Jenis Jembatan | Cable Stayed |
| Tanggal Selesai | 2003 |
| Tanggal Peresmian | 20 Desember 2003 |
| Biaya | Rp. 1.357.807.500.000,00 |
| Negara | United States of America |
| Latitude (GPS) | 42.3687290000000000 |
| Longitude (GPS) | -71.0631650000000300 |
Jembatan Zakim
The Leonard P. Zakim Bunker Hill Memorial Bridge (or Zakim Bridge) is a cable-stayed bridge across the Charles River inBoston, Massachusetts. It is a replacement for the Charlestown High Bridge, an older truss bridge constructed in the 1950s. Of ten lanes, the main portion of the Zakim Bridge carries four lanes each way (northbound and southbound) of the Interstate 93 and U.S. Route 1 concurrency between the Thomas P. "Tip" O'Neill Jr. Tunnel and the elevated highway to the north. Two additional lanes are cantilevered outside the cables, which carry northbound traffic from the Sumner Tunnel and North Endon-ramp. These lanes merge with the main highway north of the bridge. I-93 heads toward New Hampshire as the "Northern Expressway", and US 1 splits from the Interstate and travels northeast toward Massachusetts' north shore, crossing the Mystic River via the Tobin Bridge.
The bridge and connecting tunnel were built as part of the Big Dig, the largest highway construction project in the United States. The northbound (NB) lanes were finished in March 2003, and the southbound (SB) lanes in December. The bridge's unique styling quickly became an icon for Boston, often featured in the backdrop of national news channels, to establish location, and included on tourist souvenirs. The bridge is commonly referred to as the "Zakim Bridge" or "Bunker Hill Bridge" by residents of nearby Charlestown.
The Leverett Circle Connector Bridge was constructed in conjunction with the Zakim Bridge, allowing some traffic to bypass it.
Design
In a cable-stayed bridge, instead of hanging the roadbed from cables slung between towers, the cables run directly between the roadbed and the towers. Although cable-stayed bridges have been common in Europe since World War II, they are relatively new to North America.
The bridge concept was developed by Swiss civil engineer Christian Menn and its design was engineered by American civil engineer Ruchu Hsu with Parsons Brinckerhoff. Wallace Floyd Associates, sub-consultants to Bechtel/Parsons Brinckerhoff, was the lead architect/urban designer and facilitated community participation during the design process. The engineer of record is HNTB/FIGG. The lead designers were Theodore Zoli (from HNTB) and W. Denney Pate (from FIGG). The bridge follows a new design in which two outer lanes are cantilevered outside of the wires another eight lanes run through the towers. It has a striking, graceful appearance that is meant to echo the tower of the Bunker Hill Monument, which is within view of the bridge, and the white cables evoke imagery of the rigging of the USS Constitution.
The MBTA Orange Line tunnel lies beneath the bridge.
Sumber :
http://en.wikipedia.org/wiki/Leonard_P._Zakim_Bunker_Hill_Memorial_Bridge
---
---